Emomo Full Kit
Regular price

Sale price

HK$790
Our award-winning Emomo Kit contains all the essentials you'll need to get started on your child's emotional learning journey, from learning the names of emotions and regulating unpleasant feelings to setting up your own calming corner at home. Begin your child's emotional learning journey with all the tools you need in one place.
Christmas Promo (until Dec 20): Your kit will come in our premium gift box with a set of our 2023 Xmas Emomo Magnetic Bookmarks
Learning Outcomes

Learn the names of common emotions 
Practice expressing difficult emotions 
Co-regulate big emotions to return to a state of calm
Open up more channels of communication
Materials and care

Our items are made with a combination of durable beech wood, tea wood, 100% food-grade silicone, and various baby-safe fabrics and dyes. 

For wooden items: Wipe with a damp cloth 
For silicone items: Wash with water and soap 
For fabric items: Hand wash and hang dry (unless otherwise specified)
safety

All of our toys are tested against the ISO8124 Safety of Toys standards by certified testing labs. Click here for more information on the content of the safety tests
Share
What's inside this kit?
Feelings Board

Co-regulation in four simple steps. Practice identifying, expressing and regulating emotions with our magnetic Feelings Board. Hang it somewhere your child can easily access to make this a habit.

Emomo Book Series

Introduce Emomo to your child through our picture books to get them ready for their own emotional learning journey.

Reversible Emomo

Part comfort toy, part communication tool. Our Emomo plush changes from happy to sad in just a simple flip. Particularly helpful for younger children who are just starting to use words to communicate.

Feelings Poster

Put this poster up next to the Feelings Board for easy access. Your child can easily identify and point out how they feel, when they feel it.

Calming Blocks

Use the Calming Blocks as a regulation tool, open-ended play, or with our Challenge Cards. Great for putting in a calming corner too.

Thinking Journal

Our Thinking Journal is particularly useful for older children to get them reflecting on their thoughts and feelings, and practicing simple mindfulness and gratitude exercises.

Parent Guidance

Our guidebook and video guides are filled with expert advice and practical tips for navigating the early stages of emotional education. It's completely up to you how much you want to read/watch.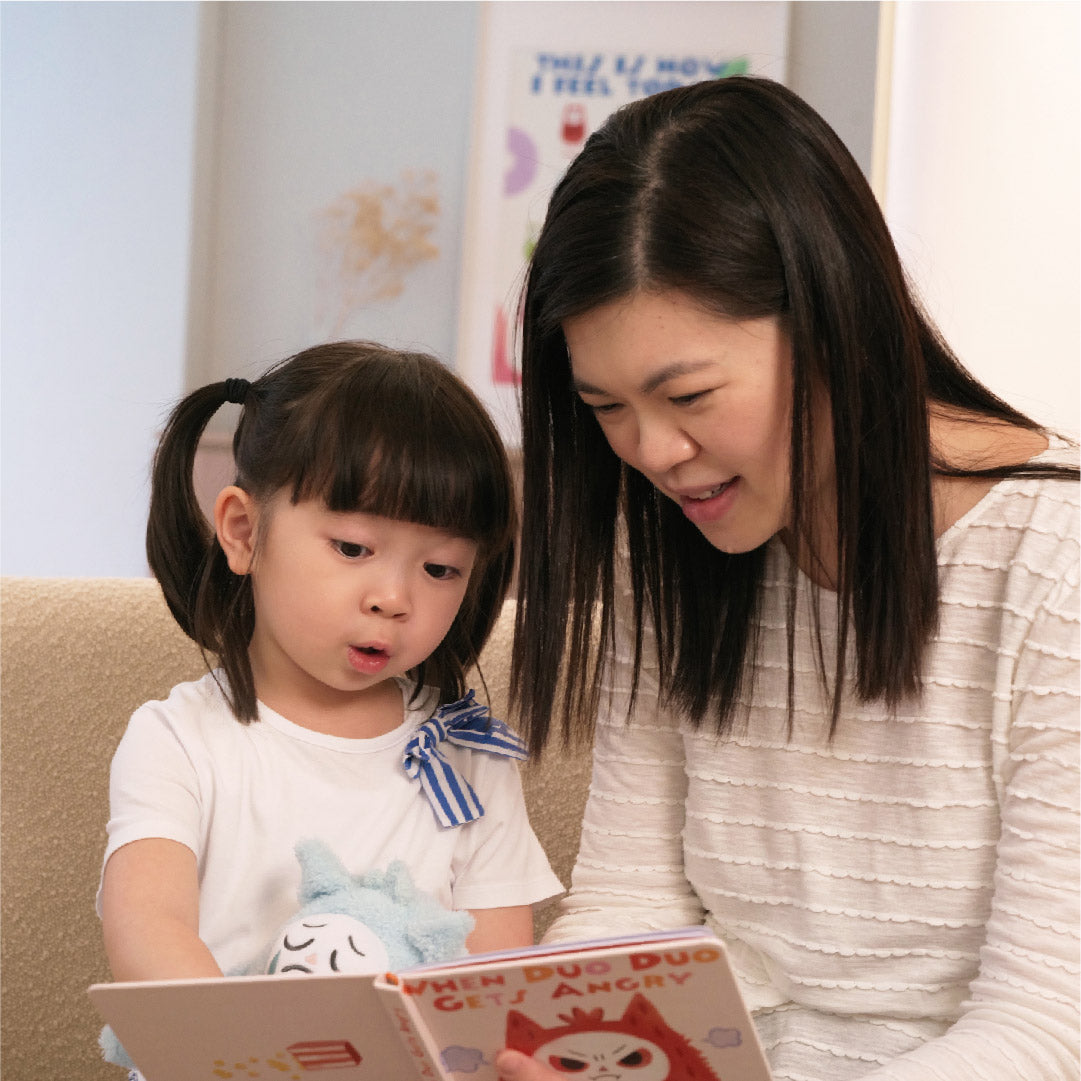 Simplifying the science
We built the Emomo Kit on evidence-based methods of social and emotional learning. One of the pillars is called co-regulation - the practice of regulating big feelings together. While the concept is simple, putting it into practice can be tricky. That's where our kit comes in.
How do we know it works?
We've collected data from over 500 families who have used our Emomo Kit, asking parents if they noticed any changes in their children's social-emotional skills, behavior, and relationships.
Emotional identification

Emotional regulation

Tantrums and meltdowns

Parent-child relationships
Over 95% reported improvements in identifying and expressing feelings. That means children were able to point to their feelings on the Feelings Poster or use the Feelings Board to express themselves
Over 65% reported improvements in emotional self-regulation skills. That means when they were feeling negative emotions, they were able to use healthy regulation methods instead of resorting to undesirable behaviors.
Over 69% reported improvements or decreases in tantrums and meltdowns. And that's even when they weren't using the Emomo Kit, which shows the lasting effect that learning social-emotional skills has on daily life.
Over 91% reported improvements in their relationships with their children. This means less conflicts and arguments, and more communication and support.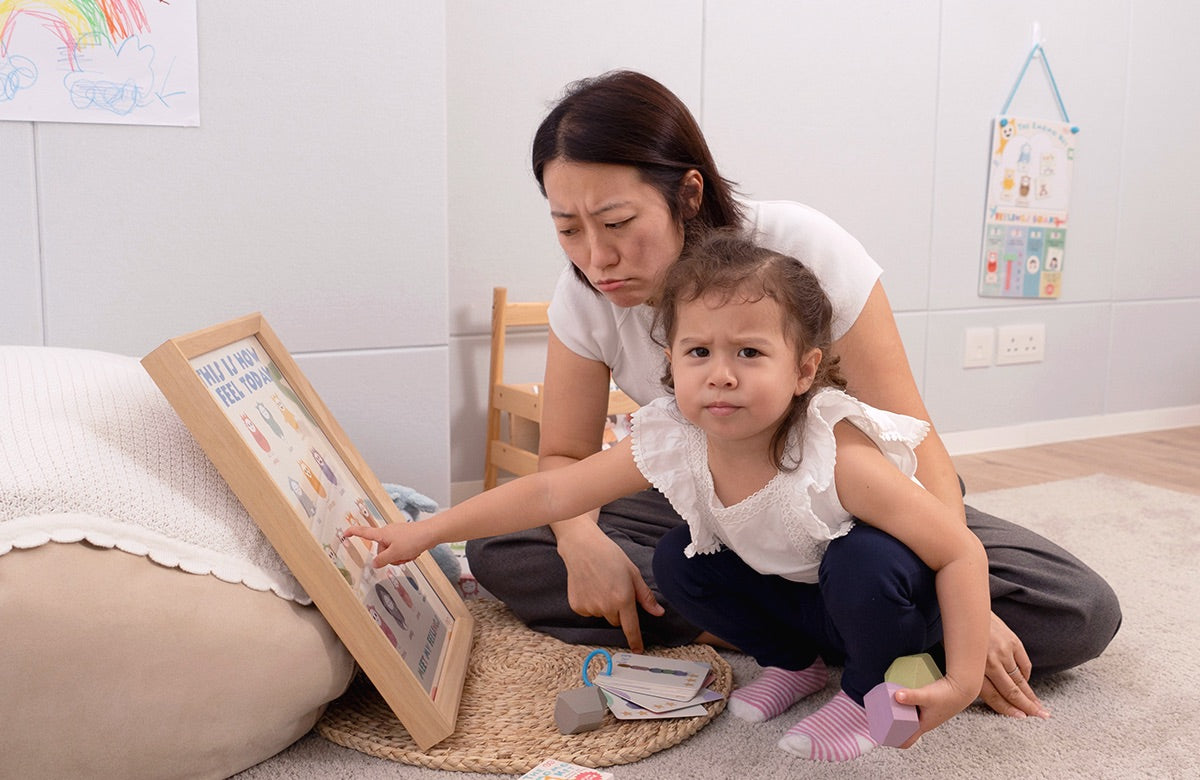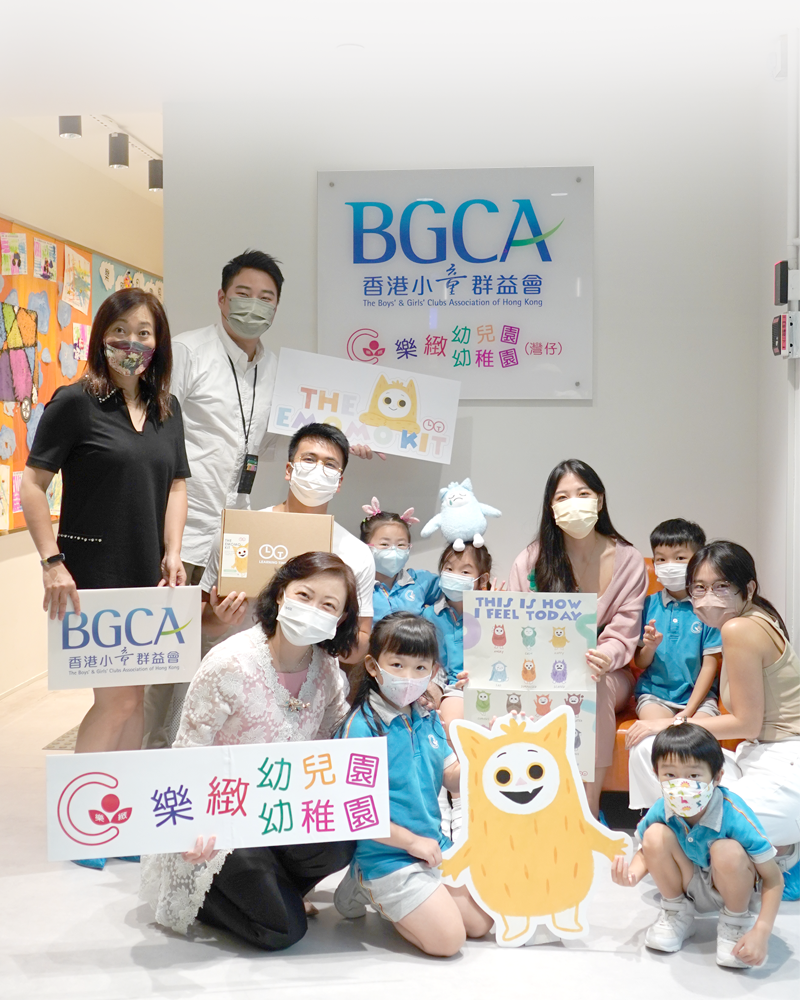 Emotional education for all
We believe emotional education unlocks a child's potential in the world. That's why we want to make it more accessible for low-income families. For every 2 kits purchased, we donate 1 full kit through The Boys' and Girls' Clubs Association of Hong Kong (BGCA).
emomo小助手
小朋友正在trouble 2的時間,但有emomo呢個好朋友,小朋友會容易表達到自己情緒,讓家長比較容易與她溝通,安慰她。小朋友也會自己玩role play時同埋emomo一齊玩,已成為日常生活嘅一部分。emomo就真係好似一個小助手咁幫忙穩定小朋友突如其來嘅情緒。
小朋友嘅情緒好朋友
小朋友宜家就嚟3歲
認識咗Emomo 接近1年嘅時間
已經熟識14位情緒Emomo
更加同開心、傷心、嬲嬲、平靜、驚喜、害怕毛毛(公仔)做咗好朋友
有時佢會自己同毛毛傾下計分享佢返學嘅趣事
有時會邀請毛毛一齊玩pretend play
真係好可愛❤️
由trouble two 到啱啱開始terrible three
小朋友嘅情緒發展真係家長嘅每日難題
情緒學習遊戲板真係幫咗好多
Debriefing 嘅時候教佢下次可點做
雖然下次佢情緒到嗰陣都係唔記得
但提下佢就快咗calm down
其實家長都有得著
想發火嗰陣小朋友會提我
「媽媽唔好嬲,你要深呼吸。」
真係嬲唔落😂😂😂
容易入腦的毛毛
小朋友自一歲半認識毛毛,經常把毛毛掛在嘴邊;用不同心情的毛毛表達自己的情緒,非常好用的情緒教材
認識情緒好幫手
小朋友同公仔做咗朋友,一開心同唔開心都話要揾妖怪公仔!而家一嬲就話要紅色果隻公仔一齊喊!本身大人都好難解釋情緒俾小朋友認識,呢set工具真係好幫到手!
讓小朋友投入其中的情緒教導工具
踏入trouble two, 小朋友愈來愈多No~曾經以有關書籍教導小朋友如何表達情緒,可惜效果一般。直至遇到多多同MOMO, 小朋友開始理解如何正確表達情緒,與各程情緒共處。推薦!
FAQs
What's the difference between the Emomo Basic Kit and Full Kit? 

The Basic Kit has all of the essential items from our Emomo series to begin playful emotional education at home. The Full Kit contains extra tools like our storybooks, Calming Blocks, and Thinking Journal. 
My child has suspected or diagnosed special educational needs. Can they use the Emomo materials? 

Certainly. Emomo is meant to be a playful way to learn about different emotions, how to communicate them, and how to regulate them. Most children will think of these tools as toys instead of learning materials. 
What is the age limit for the Emomo materials?

We recommend 2 years old as the lower limit because this is generally when children become more verbally expressive but feel free to start earlier if you're ready! We don't put an upper age limit because every child's social and emotional skills are unique.
What languages are the materials available in?

Currently, the materials are available in English and Traditional Chinese. Please choose your language preference when adding this kit to your cart. All the materials (including the storybooks and guides) are in the language that you choose.
Who did you create the materials with? 

We worked with Tutor Time International Nursery and Kindergarten to create all the materials in the Emomo series. We combined their years of experience teaching social and emotional learning skills with our unique designs to create Emomo™.