The Turning One Kit
Regular price

Sale price

HK$750
Turning one is not only a reason for birthday celebrations, it also marks an important milestone in your child's development. This kit celebrates both of these occasions with toys and activities that encourage fine-motor development, problem-solving skills, and even a textured book about turning one. 
Christmas Promo (until Dec 20): Your kit will come in our premium gift box with a set of our 2023 Xmas Emomo Magnetic Bookmarks
Learning Objectives

Hand-eye coordination and fine-motor skills
Problem-solving skills like trial-and-error
Understand the concept of cause-and-effect 
An introduction to pretend play
Materials and care

Our items are made with a combination of durable beech wood, tea wood, 100% food-grade silicone, and various baby-safe fabrics and dyes. 

For wooden items: Wipe with a damp cloth 
For silicone items: Wash with water and soap 
For fabric items: Hand wash and hang dry (unless otherwise specified)
safety

All of our toys are tested against the ISO8124 Safety of Toys standards by certified testing labs. Click here for more information on the content of the safety tests
Share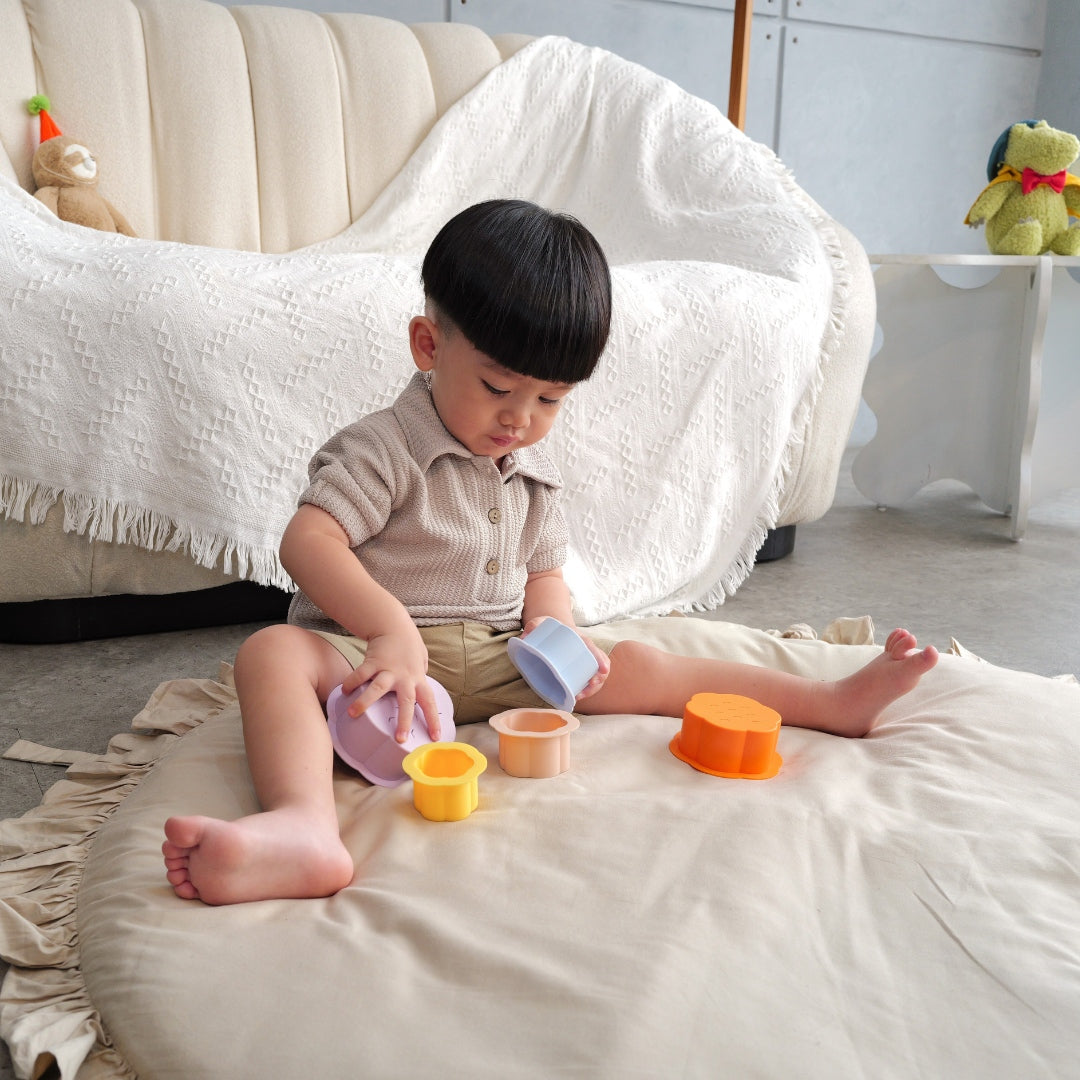 What's inside this kit?
Today is my Birthday Set

Celebrate your child's first birthday with a rhyming sensory book that introduces different emotions and a cuddly sloth plush for pretend play. (Plush: 22x12x26cm. Book: 15.6x1.6x18.6 cm)

Pushing Pegs

Push the platform to see the pegs tumble out, then use fine-motor skills to put them back in. (15.4x9.3x12.5cm)

Pick and Pluck

A Montessori-inspired toy that helps your baby practice three key grasping techniques for fine-motor development. (9.8x7.9x7.8cm)

Nesting Cups

Nest them, stack them, use them as snack bowls, then take them to the bath for water play. (Stacked: 10.9x10.3x5.5cm)

Shape Container

Learn about 'containment' with our age-appropriate and flexible shape sorter. The perfect toy for curious little hands. (11x11x11.5cm)
Exciting milestones ahead
The first year goes by in a blur, and your baby is no longer a helpless infant. As they approach their first birthday, they will understand a lot more of what you say, be more coordinated with their movements, and show curiosity about the world. The right toys provide crucial stimulation at this stage.
Your personal play journal
Our Play Journal is equipped with advice from child development experts, along with fun prompts and space for recording the milestones from this stage of your baby's life.
Finally found beautiful and affordable educational toys
Finally! So happy to have toys without sacrificing looks or educational value. I've bought toys from many shops. When they look good, they are usually way too expensive. And when they're cheap, they look so unappealing. So happy to have found Learning Time, this is really the best value I've come across AND it feels so premium while still being educational. Can't wait to see what other kits they make in the future ! PS my son and I both LOVE the sloth plush and book about emotions
Multipurpose set!
my 15 month girl loves the sloth and the stacking cup so much! She generally loves plush and the sloth is of brilliant quality, I appreciate it comes with a book that relates to the plush and teaches different emotions. It's a great start for reading and learning everyone has their unique emotions/ point of view to one thing. My girl use stacking cup as a cake for the sloth in pretend play and loves playing with it in the bath tub.
My son loves this Turning one kit!
Turning one kit既所有玩具我仔仔都鍾意玩,pushing pegs係佢最愛又可以訓練到佢解難。Pick and pluck 3種形狀可以一次過訓練到唔同既抓握動作。Silicone cup最好既地方係可以帶埋一齊沖涼玩👍🏻一套玩具訓練多元化設計同質地都十分好,我同仔仔都鍾意🫶🏻
Silicone shape sorter is our favorite
The silicone shape sorter box is our favorite in this kit. Everything is very nice design and high quality. Thanks learning time