The Tummy Time Kit
Regular price

Sale price

HK$750
Starting tummy time is an exciting milestone, but it can also be very fussy. Our Tummy Time Kit includes key toys, tips, and activities to help make tummy time interesting for your baby. With practice, your baby will transition from tummy time to rolling, sitting, and crawling in no time.  
Christmas Promo (until Dec 20): Your kit will come in our premium gift box with a set of our 2023 Xmas Emomo Magnetic Bookmarks
Learning Objectives

Fuss-free tummy time sessions 
Prevent flat spots on the back of the head
Strengthen their limbs, neck, and core 
Build brain connections to coordinate body movements
Set a strong foundation for future gross motor development
Materials and care

Our items are made with a combination of durable beech wood, tea wood, 100% food-grade silicone, and various baby-safe fabrics and dyes. 

For wooden items: Wipe with a damp cloth 
For silicone items: Wash with water and soap 
For fabric items: Hand wash and hang dry (unless otherwise specified)
safety

All of our toys are tested against the ISO8124 Safety of Toys standards by certified testing labs. Click here for more information on the content of the safety tests
Share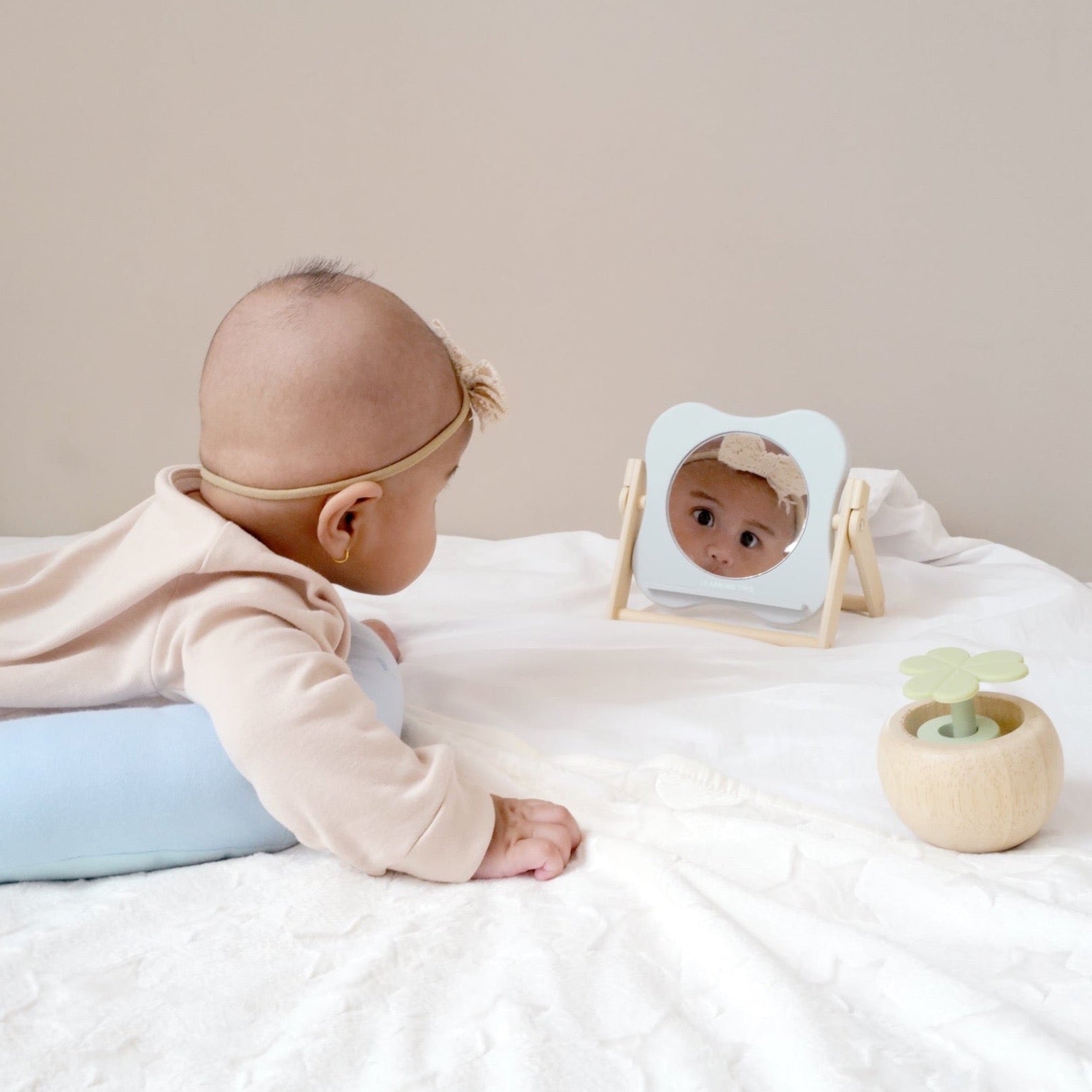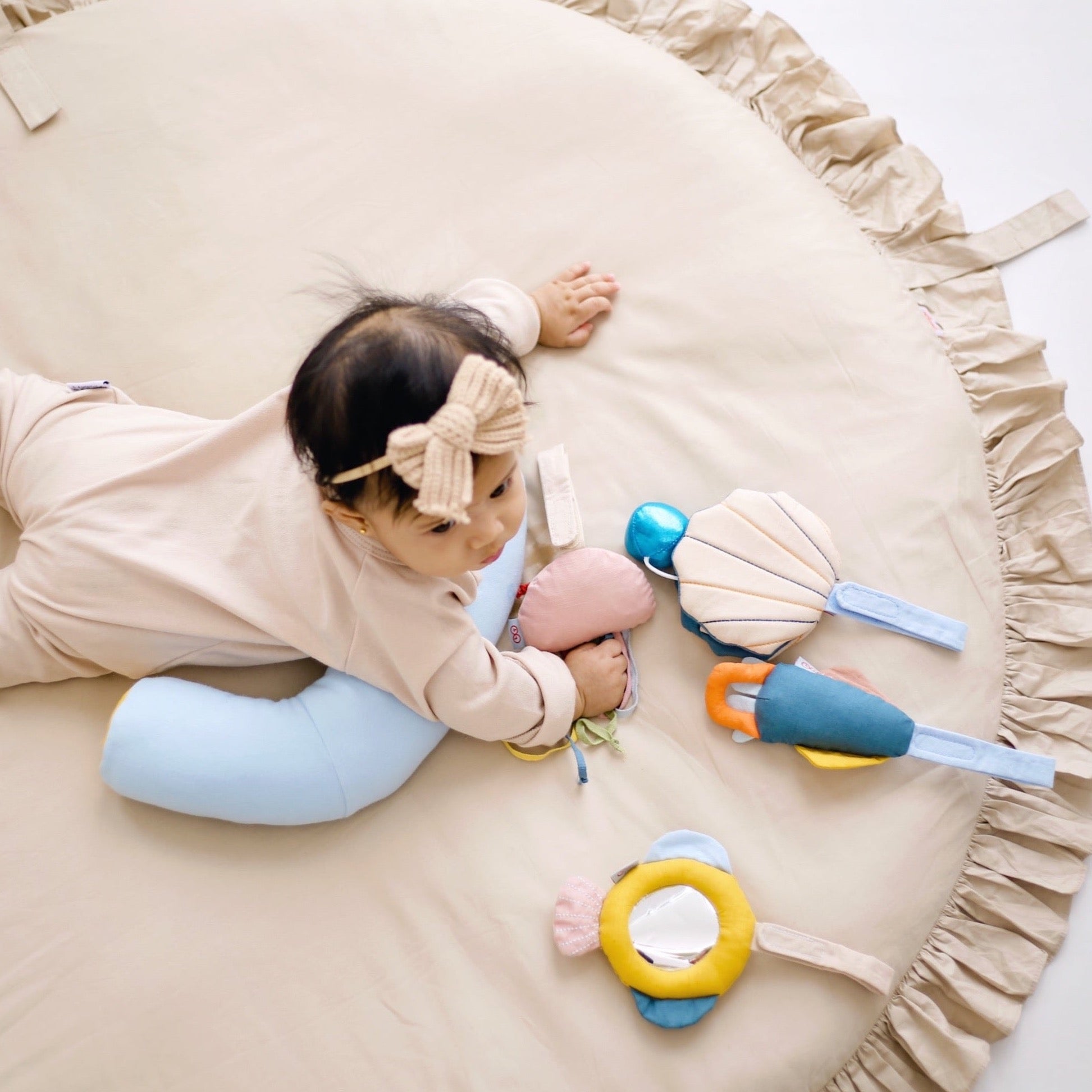 What's inside this kit?
Tummy Time Stand

Stimulate visual development during tummy time with interesting high-contrast patterns and a baby-safe mirror. (Stand: 17.8x2.6x19.5cm)

Dual Tummy Time Pillow

An ergonomic pillow that accommodates all the stages of tummy time. Made with memory foam and baby-safe fabrics. (36.5x10x17cm)

Wobble Wobble

Push it to see it wobble and hear a gentle rattling sound. It never tips over no matter how you push it. (8x8x8.8cm)

Sensory Pads

4 multi-sensory activity pads to stimulate your baby's senses, including baby-safe fabrics, mirror, rattles, and more. Perfect for taking on the go too. (~13x2x22cm)


Rolling Rattle

Encourage reaching and moving during tummy time with our Rolling Rattle. Watch it roll left and right while it makes a gentle rattling sound. (11.7x11.3x11.6cm)
When to begin tummy time?
With the right tools and support, your baby can actually begin tummy time the moment they are born. This helps them get used to being on their tummy, which can be uncomfortable at first. Items like our Tummy Time Pillow will provide much needed support during this time.
Your personal tummy time guide
A Play Journal is included in this kit where you can learn more about different stages of tummy time, tips and activities for each stage, and space to safekeep the precious moments from this stage of life.
Good Product Good Design
上星期買咗呢Set送俾侄女,全家連埋老人家都讚個枕頭幾唔錯
睇得出好用心製造,Sales仲要話係本地品牌,支持支持!
值得等待!
之前8月時係BB展訂購左兩套
雖然訂單少少Delay左,但客服一直會主動跟進,仲教我好多育兒資訊(想讚一讚客服團隊,謝謝!)
收到之後開箱真係好有驚喜,真心覺得幾百蚊買到幾千蚊嘅質素
我同先生都好鍾意個Pillow,設計得好好
阿女而家2個幾月已經識伸手玩玩具,抬頭都好夠力,過多陣會再努力試下用灰色個高度學轉身🥺
10分推薦呢套教材!仲有最後想講本Journal畫得好靚,好鍾意❤️
We love the wobble wobble!
Super cute design and my son loves it so much! It definitely increases the tummy time he has!
Even I like the wobble wobble, it would be a nice piece to keep for years that my son could look back when he grows up! (probably as decoration with other plants!)
方便攜帶出街
我有跟住你哋嘅 video tutorial,試吓將玩具掛喺 BB 車俾佢玩,so far 佢都幾鍾意!
Recommend for parents
I was looking for a tummy time pillow and mirror for my little one when I found this kit. Its one less thing for me to worry about so I can focus on other things which I really appreciate. Particularly loved the tummy time stand with the little talking prompts. What a thoughtful detail and fun way to engage with my boys. I would have liked a few more pattern cards but that's just a minor thing. Overall it's a great kit